Study area: central New Mexico. MAP=250 mm, dominated by North American Monsoon. Elevation range: 1600 to 1700 m. Vegetation: one-seed juniper trees and black grama grass coexist in NFS, and creosotebush shrubs dominate SFS. In flat terrain, shrubs dominate with sparse grass.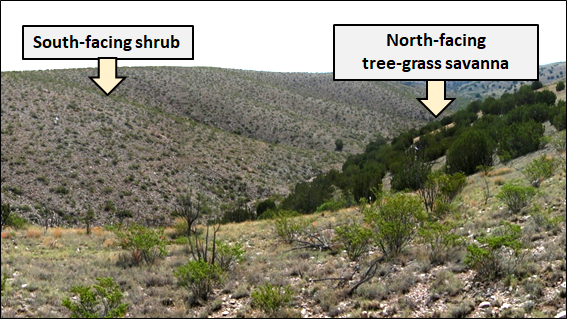 Figure 1: Example photo of a typical site with pronounced topography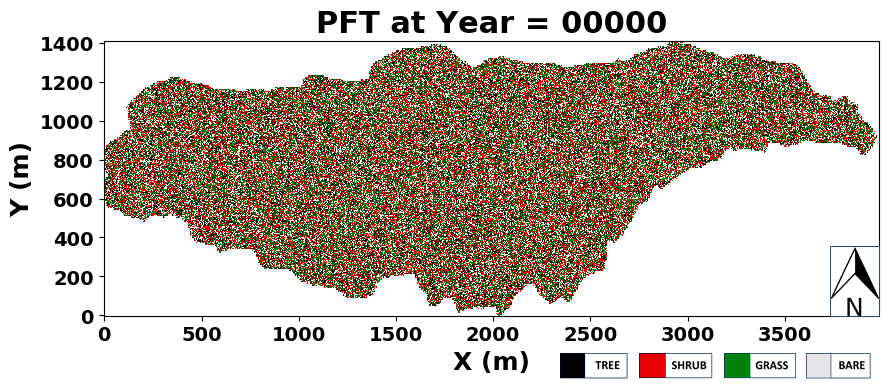 Figure 2: Modeled spatial organization of Plant Functional Types (PFTs) from the implementation of Model A on a catchment in central New Mexico, plotted at an interval of 200 years. In this figure, we can observe that PFTs organize from an initial random condition. Trees and grass dominate north-facing slopes; shrubs cover south-facing slopes and flat areas.
Zhou, X., Istanbulluoglu, E., & Vivoni, E. R. (2013). Modeling the ecohydrological role of aspect‐controlled radiation on tree‐grass‐shrub coexistence in a semiarid climate. Water Resources Research, 49(5), 2872-2895.